< BACK TO NEWS AND STORIES
International Overdose Awareness Day 2021
August 31, 2021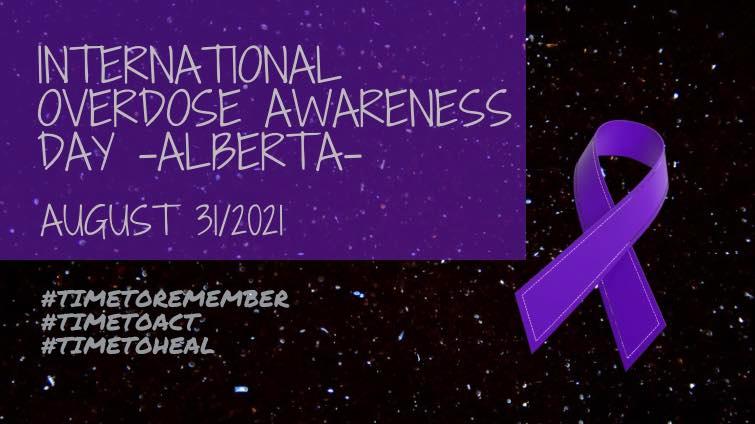 On August 31st, the Calgary Drop-In Centre (the DI) will be observing International Overdose Awareness Day, which is a global effort to end drug poisoning, reduce the stigma surrounding it for those past and those currently struggling with addiction, and acknowledge the grief it leaves behind.
Just this year alone, the DI has reversed 356 drug poisonings, and that's just two-thirds of the way through the year. We are on pace to see 540 drug poisonings in 2021, meaning an average of 1.48 per day. This is occurring even though illicit drugs are prohibited at the DI. However, even with our balanced approach of low-barrier, trauma-informed, harm reduction, and housing-focused philosophies, illicit substances still find their way into the building.
We cannot allow these numbers to merely become statistics, because each one represents a story of trauma. Not only for those who have been poisoned but for the staff and support networks who respond to them.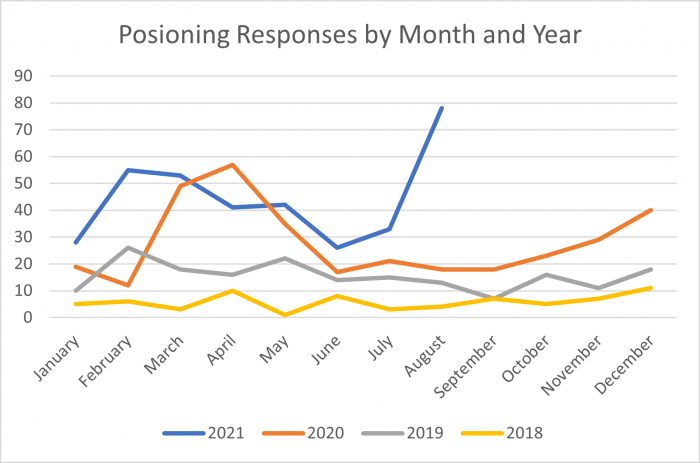 Sadly, August 2021 is the worst recorded month to date for drug poisonings, showing the urgent need for more immediate access to detox, rehabilitation, and mental health services. As we stated back in April, as a frontline service, the best we can do is add those who are ready to get clean to a long waitlist.
Changing the stigma
The DI is making the conscious effort to switch our language from drug overdose to drug poisoning, although we still observe International Overdose Awareness Day as a named, global event.
To overdose on a substance implies that a person took too large a dose, often implying that the person that "overdosed" is at fault for their own medical emergency. Yet, we know that the drug supply is so toxic and contaminated that people are often misinformed about which drugs they're consuming. DI clients are being poisoned by substances or quantities of substances they never intended to take. Even legalized drugs, such as cannabis, can and are tainted with fentanyl, which can lead to a drug poisoning. By referring to that incident as an "overdose" or an "OD", we are unintentionally blaming and shaming folks through our language.
To help put this into perspective, when we speak of people who consume a lethal amount of alcohol and require medical intervention, we don't call this an "alcohol overdose". Rather, it's termed "alcohol poisoning". When an unknowing child gets into a cigarette pack and eats one, this is not a "nicotine overdose", it's a "nicotine poisoning". In the same vein, if folks consume a lethal amount of a substance, this should too be considered a "drug poisoning".
A core tenet of International Overdose Awareness Day is changing the stigma, so the conscious shift in language is an important aspect to the DI's response to the drug crisis.
Support in the community
We often say at the DI that we cannot and do not do this work alone, and this is true for the drug crisis response as well.
With groups like the Safeworks Harm Reduction Program run through Alberta Health Services as well as community-led initiatives like Each + Every, it is encouraging to see so many Calgarians reacting to the opioid crisis in such a responsive manner.
It is important to remember that on an individual level, we can all choose to meet this crisis with kindness, compassion, and understanding. With the challenges of the pandemic, everyone is coping the best they can with the tools and supports available to them. If you see someone at risk or in the process of experiencing a drug poisoning in public, please call 911 to get them medical attention. If you are interested in learning about Naloxone and getting a free kit and the training on how to use it in the case of a drug poisoning, click here to find where you can get a kit and click here to view the online training provided by Alberta Health Services.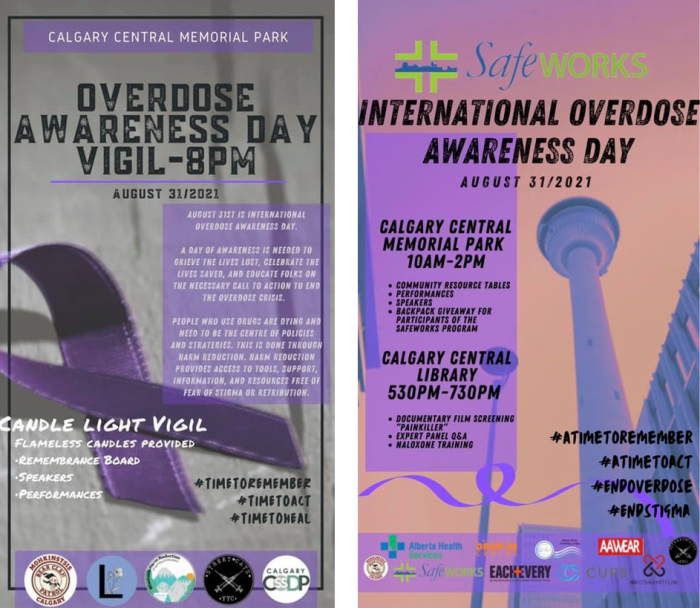 How to commemorate International Overdose Awareness Day
In Calgary, there are three different events taking place on August 31. The first is taking place at Central Memorial Park from 10 a.m. – 2 p.m., and will feature community resources tables, performances, speakers, and a backpack giveaway for participants of the Safeworks Program.
The second event will be held at the Calgary Central Library from 5:30 p.m. – 7:30 p.m. and will be a screening of the documentary Painkiller. Alongside the documentary will be a Q&A period with a panel of experts, as well as a Naloxone training session.
Finally, back at Central Memorial Park at 8 p.m., there will be a vigil to grieve the lives lost, celebrate the lives saved, and education surrounding the necessary call to action to end the overdose crisis. This will be a candlelight vigil, and flameless candles will be provided.
All of these events are free to attend, and please use recommended COVID-19 safety precautions to ensure that these remain safe for all who participate.