< BACK TO NEWS AND STORIES
Calgary Drop-In Centre celebrates the 20th Annual National Housing Day
November 22, 2020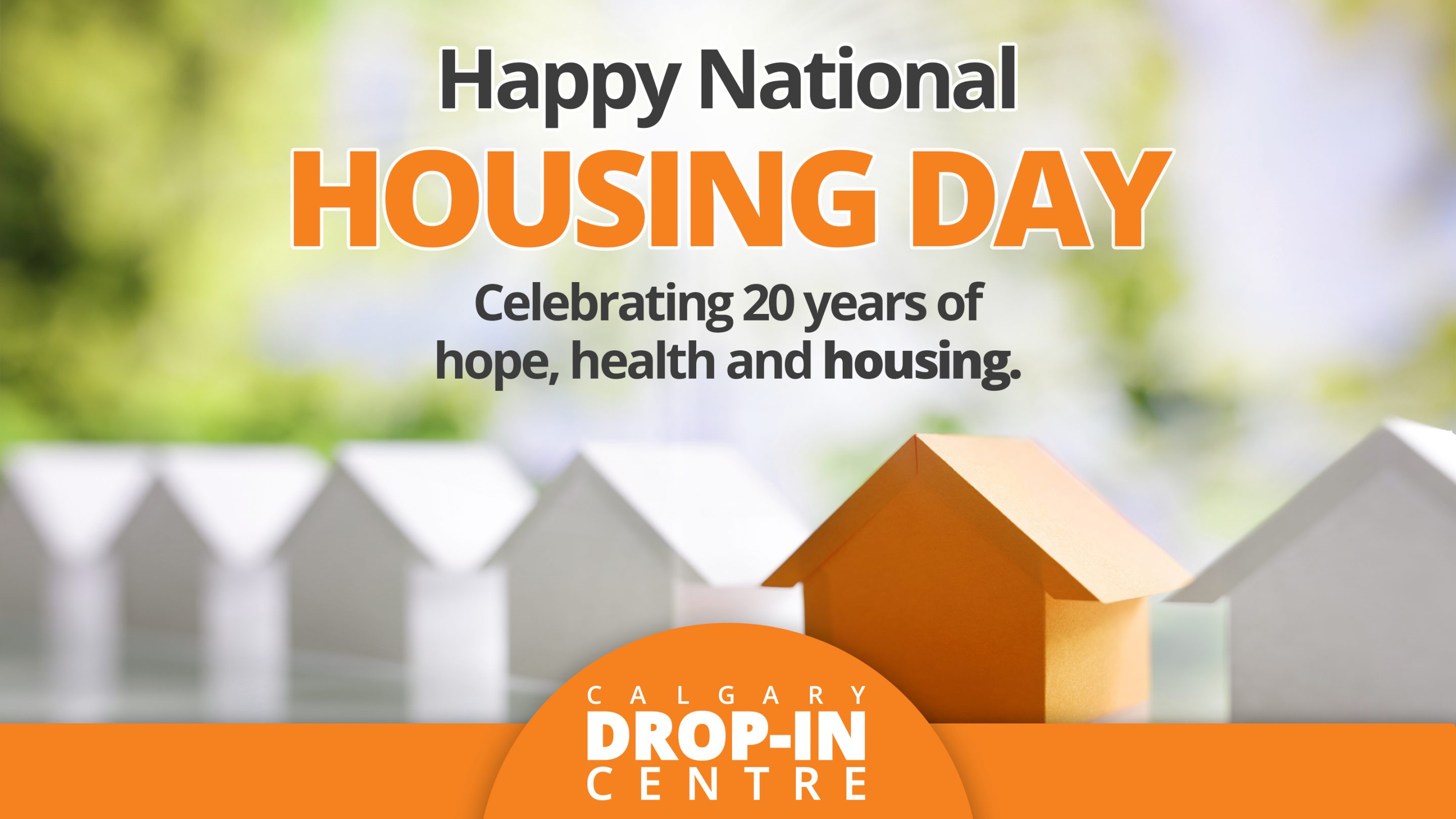 The Calgary Drop-In Centre (the DI) is proud to stand alongside our peers in the homeless-serving sector to celebrate National Housing Day. This year is special as 2020 marks the 20th anniversary of National Housing Day.
National Housing Day began because Canada was, at the time, the only G-8 country without a national housing strategy. After many years of cities across the country advocating for such a strategy, November 22nd was selected in the year 2000 as a date to raise awareness about housing and homelessness, with a focus on the needs of individual communities.
20 years later, it seems as though Canada is the closest it has ever been to a unified housing strategy, with $1 billion committed from the Federal Government to their Rapid Housing Initiative, as well Recovery For All: the national campaign to end homelessness in Canada.
Here in Calgary, the DI changed its mandate back in 2018. Long known as the "largest homeless shelter in North America," the DI recognized that its programs and services were unintentionally keeping people in the building and stuck in homelessness. With new leadership, national collaboration via the Canadian Shelter Transformation Network, and an inherent belief that Calgary's homeless population deserved better, the DI's housing transformation has been in full swing for a few years. Nothing, not even a global pandemic, has slowed them down.
This is the third year of the DI's shelter transformation and since 2017, they have housed approximately 1,170 people. That is 1,170 people who now sleep in their own bed and in their own home and have had the opportunity to build their community, reconnect with family, and/or better maintain their personal wellness.
More recently, when COVID-19 hit Alberta, the pandemic illuminated how integrated health and housing are. The DI asked themselves, what if COVID-19 was the catalyst to end homelessness all together? Their goal to house 250 Calgarians during the pandemic was met in seven months, and more than 300 people have been housed since March 1.
National Housing Day is more than celebrating a few walls and a roof – it's about celebrating hope, health, and home.
As members of the YYC community, the DI will continue to support our most vulnerable people until all Calgarians have a place to call their own. If you'd like to get involved, you can join the DI's mission to help Calgarians find their way home. Learn how: calgarydropin.ca/get-involved