< BACK TO NEWS AND STORIES
7 Impactful Ways to Give Back
February 13, 2023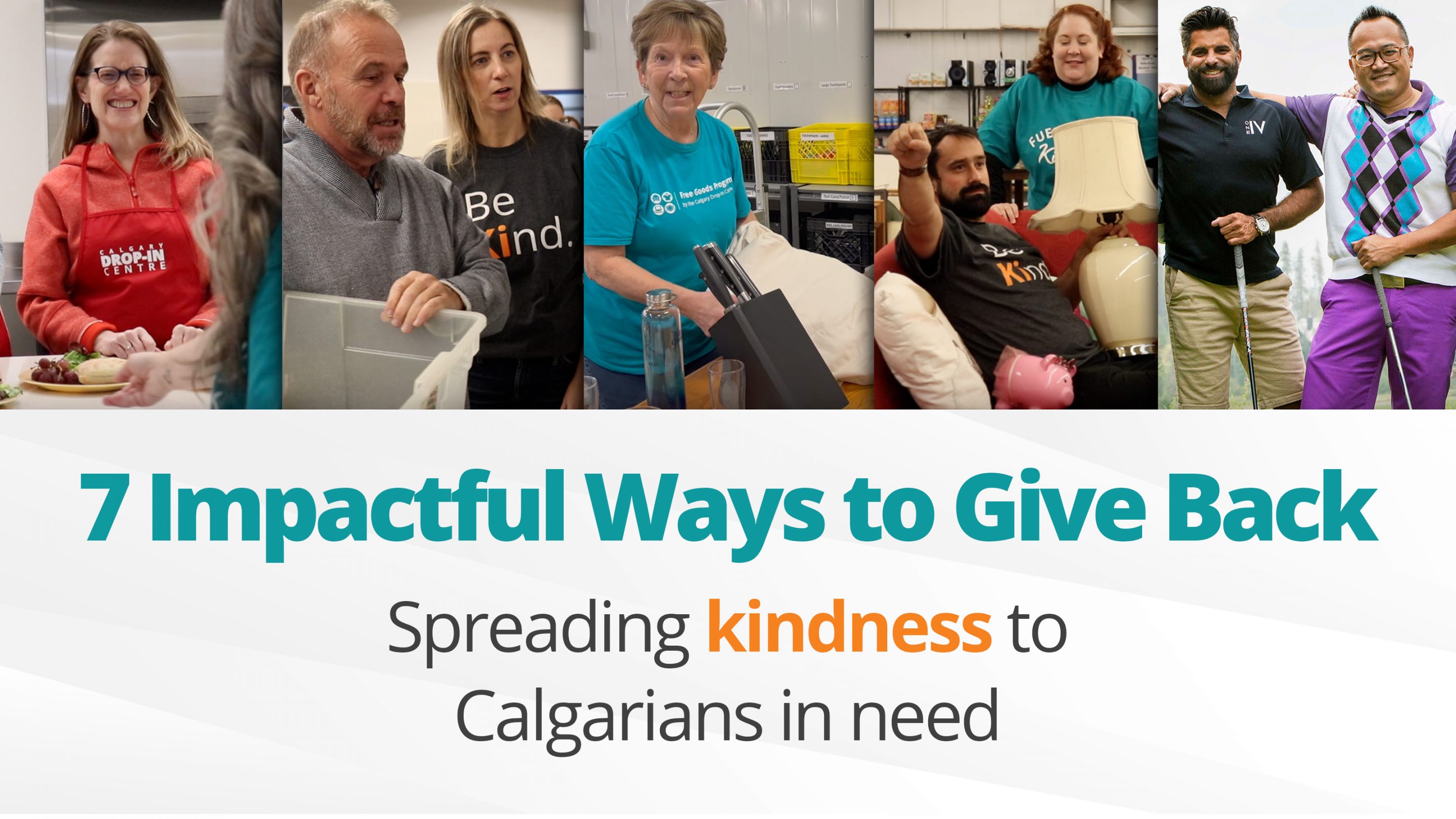 Read time: 2 – 3 minutes
Deciding which charities to support can be daunting, with many worthy causes to choose from. If you're like us and believe that everyone deserves kindness, a warm meal, and a place to call home, we invite you to join us as we help build a community where that vision can become a reality.
Since 2017, we've helped nearly 2,000 people find their way home — none of which would have been possible without support from the community. We don't do this work alone; we rely heavily on the generosity of community donors and volunteers to help us run programming that supports those at risk of or experiencing homelessness. (You can learn more about our impact here.)
If you're looking for ways to give back and help Calgarians in need, consider choosing from our list of suggestions below.
1)  Volunteer 
From serving meals to sorting and staging donations, many options are available for individuals and groups to volunteer their time. Come by yourself or gather some friends to lend a hand! Explore our current opportunities and sign up here.
2)  Donate 
Make a one-time or monthly cash gift by visiting calgarydrop.ca/donate. You can designate where the money goes and give as little or as much as you like. If you're interested in making a sizable donation, please get in touch with our fund development team at community@thedi.ca.
3)  Sponsor a meal
We serve an average of over 1,400 meals daily. By sponsoring a meal on behalf of your company, organization, or family, you can help hundreds of people experiencing food insecurity at once. Learn more about sponsorship opportunities here.
4)  Donate to our Free Goods Program 
We collect new and used items and distribute them to Calgarians who need them, at no cost. We accept almost everything, including furniture, household items, technology, clothing, hygiene items, and more. Please drop off items in good condition (no rips or stains) at our Donation Centre. (Address provided below.)
5)  Help with current greatest needs
Donate from the list of items below to help stock our health services department with over-the-counter medications or provide hygiene products and other supplies to those who use our programs and services.
Tylenol
Advil
Throat lozenges
Underwear (new)
Towels
Toothbrushes
Toothpaste (mini)
Lip chap
Hand warmers
Tampons
Socks
Grocery store gift cards
$10 Tim Horton Cards
Calgary Transit tickets
Reusable coffee mugs
Please drop off or mail items to our Donation Centre (details below).
6)  Give through our Amazon Wish List
Prefer to shop from home? You can gift our greatest needs items by shopping our Amazon Wish List and ship directly to the Donation Centre without leaving the house! See below for mailing address.
7)  Work with us
Are you fueled by kindness and ready to make an impact? Join the DI family as a member of our staff. From frontline workers, kitchen cooks, admin roles, and more, we're always looking to grow our team of passionate and motivated individuals to join our mission. Check out our current opportunities and apply today at calgarydropin.ca/get-involved/careers.
We couldn't do the work we do without the support of our incredible donors, volunteers, and dedicated staff; for that we are so grateful. Regardless of how you choose to give back, we're proud to be part of a community that supports those in need, and we offer our sincerest thanks for all you do. It truly takes a community to build community!
­­­­­­­­­­­­­­_____________________________________________________
Donation drop off location and mailing address:
Donation Centre
3640 11A St NE
Calgary, AB T2E 6M7
Open seven days a week
Monday – Friday: 8:00 a.m. – 5:30 p.m.
Saturday & Sunday: 9:00 a.m. – 5:30 p.m.
Closed on statutory holidays.