< BACK TO NEWS AND STORIES
The Free Goods Program offers essential services to low-income Calgarians
April 8, 2021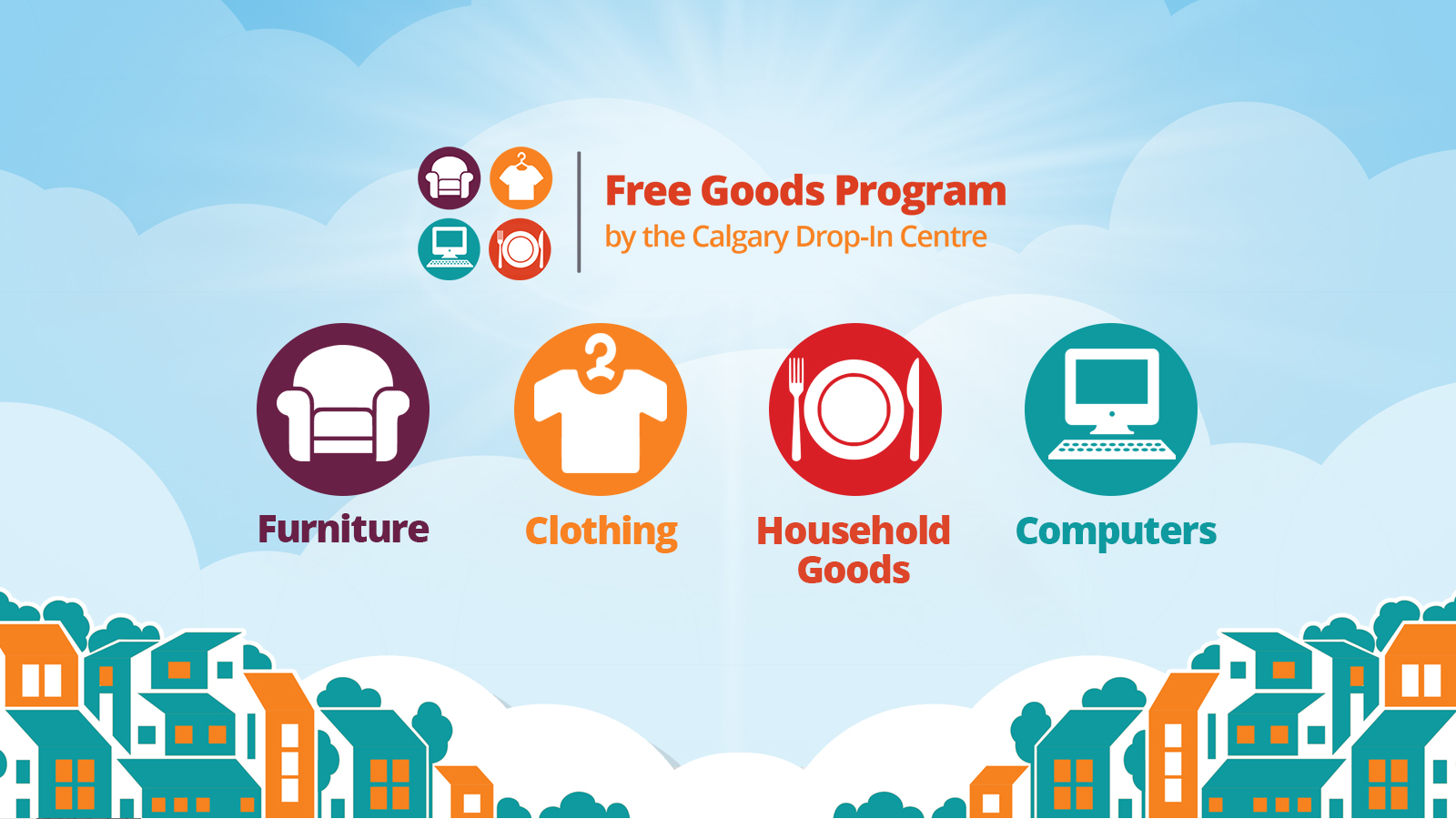 We, at the Calgary Drop-In Centre (the DI), are more than an emergency shelter. We provide essential care as well as health services, employment training, and housing supports to people who need help. Our programs and services connect people to permanent housing that meets their individual needs. Yet, it can be difficult for low-income Calgarians to furnish their homes with essential items that many of us can take for granted. Out of this need, the DI's Free Goods Program was born.
Funded in part by the Calgary Homeless Foundation, the Free Goods Program provides low and no-income Calgarians with the essential items they need to make a house a home – at zero cost. It is because of generous Calgarians who donate their lightly used goods that we are able to provide free furniture, kitchenware, clothing, computers, mobile phones, small appliances, books, and more to those in need.
Run out of our Donation Centre (map), the program has a large capacity for items of all sizes. Accepting mailed-in or delivered items makes it easy for the community, and people like you, to engage with us and bring in items. The Free Goods Program also offers flexible solutions to help deliver and move items into people's homes, as the cost of movers and access to a vehicle can be a barrier for many who wish to take free goods home.
With the following four main components, the Free Goods Program offers a one-stop-shop for Calgarians in need:
Furniture
Through this program, Calgarians in need can take home furniture like free beds, dressers, tables and chairs, couches, desks, shelving units, and more. Throughout COVID-19, and with many working from home, it has become even more crucial to have a home set-up that works for every aspect of life.
Household Goods
Household items like kitchenware, cookware, small appliances, bedding, linen, towels, etc., are crucial to having a healthy lifestyle. Essential items, like pots and pans or cutlery, can help those who are exiting homelessness cook at home to save money and eat right. It can be stressful for Calgarians to arrive at the Donation Centre, so our team of staff and volunteers makes gathering the essential items accessible by building kits. Our free kits contain all that a person would need – from kitchen to hygiene items.
Clothing
Donated lightly used clothing – from business to casual, outerwear, and footwear are available for Calgarians. Having the right attire can make a tremendous difference in someone's life for many reasons. From a practical lens, we Calgarians need to dress for our ever-shifting weather. Socially and professionally, dressing right can make a big difference in seeking and keeping a job as well as forging connections with support networks.
Computers
The Computers for Low-Income Calgarians (CLIC) program provides refurbished computers, tablets, and other technology to individuals and families. In hopes of breaking down the barriers that prevent anyone living in poverty from accessing the technology they need, CLIC provides technology for work, education, connection to support networks, and access to affordable housing. Throughout COVID-19, we have also seen a massive increase in the need for technology to support new work-from-home arrangements, so this program has become increasingly valuable to many.
Just last year, the Free Goods Program distributed approximately 15,000 household items and nearly 600 computers to more than 2,000 households combined. The success of the Free Goods Program is an integral part of the DI's housing-focused mission. Having your own furnishings allows you to feel at home and helps put down roots that aren't at risk of being taken away.
We receive a lot of positive feedback from the community, which fuels our staff to continue this great work. Recently, a Free Goods Program recipient shared the following experience.
"I am a new immigrant in Canada and my Settlement Counsellor referred me to the Calgary Drop-In Centre's Free Goods Program for furniture pickup. I was at the Donation Centre and I must say, your staff were quite pleasant and accommodating. There were several lovely household items to pick from and I got some good stuff for my family. I even got a computer for my boys. I just want to say a big thank you for the great work that your organization is doing to help new immigrants settle down in Canada. Kudos to you guys!!!"

– Saidat
We certainly don't do this work alone, though. It really does take a community. We rely on donations to run our program, as well as the support from all of our partners and funders.
We accept all clean and usable items, and we need everything that makes a house a home. Some of the most needed items are Microwaves, TVs, Couches, Kitchen Tables and Chairs, Dressers, and Technology (Computer monitors, keyboards, mice, and miscellaneous cords). If you are in a place to give, please click here to learn how you can help.
The Free Goods Program is based on eligibility. If you are in need and looking for free goods, click here to apply for the program.
---
Free Goods Program | Donation Centre
Phone: 403-264-0856
Address: 3640 11a Street NE (map)
Hours (excludes statutory holidays):
Monday to Friday: 8:00 a.m. – 6:00 p.m.
Saturday and Sunday: 9:00 a.m. – 6:00 p.m.