< BACK TO NEWS AND STORIES
We're expanding our reach with support from the Calgary Homeless Foundation
April 1, 2021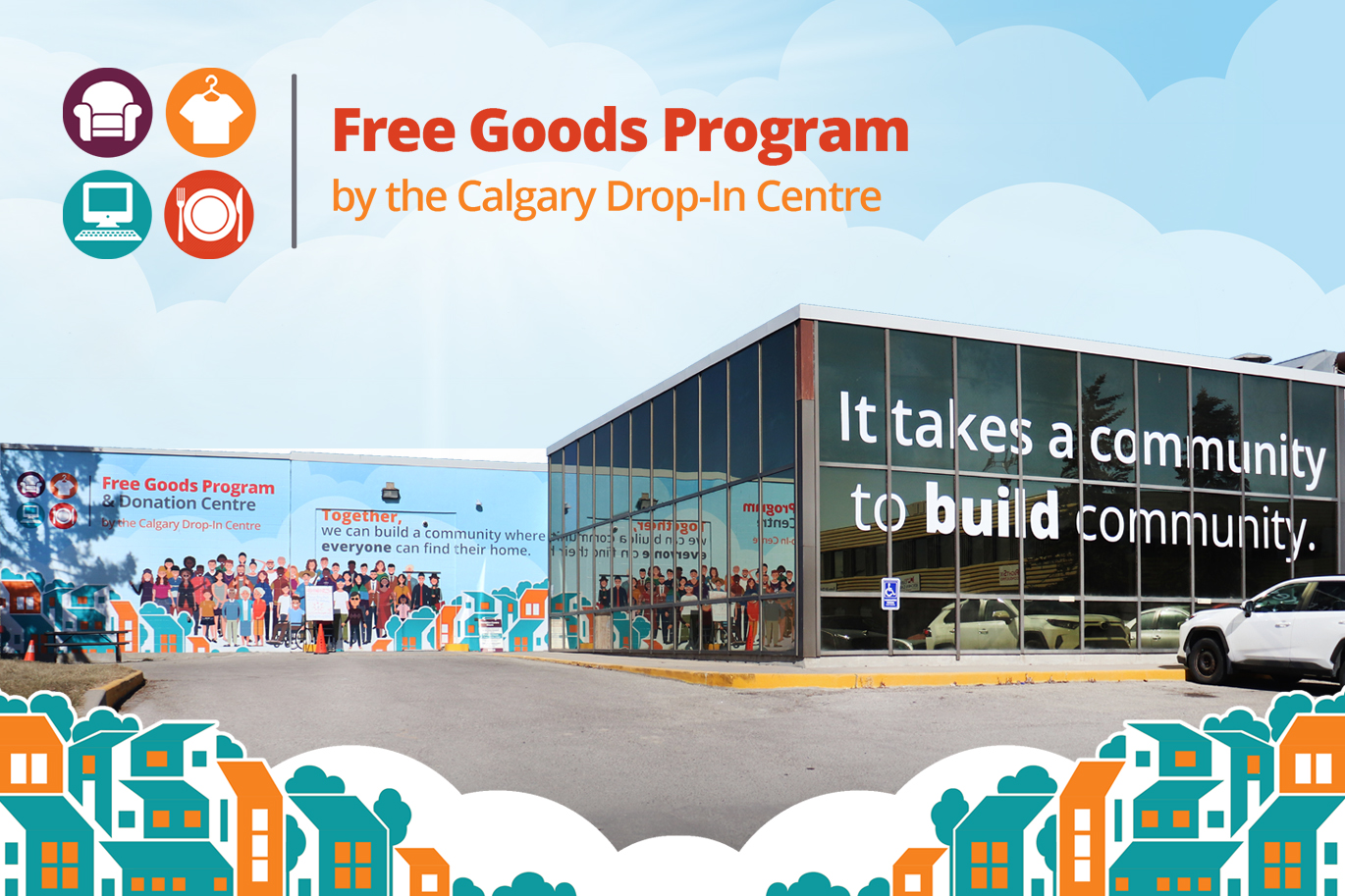 In 2020, the Calgary Drop-In Centre (the DI) housed a record 428 people. With that many Calgarians living independently again, it takes a lot to furnish those homes.
Thankfully, the Free Goods Program & Donation Centre, an extension of the DI, accepts donated items from the community and provides those items to low- and no-income Calgarians.
Last year, the Free Goods Program distributed approximately 15,000 household items and nearly 600 computers to more than 2,000 households combined, including referrals from an additional 105 local agencies. With the continued support of the Calgary Homeless Foundation (CHF), the program has expanded beyond the DI and offers free services to anyone who needs home furnishings or household goods.
The Free Goods Program follows the housing-first philosophies of the DI, and, as an outcome, our return-to-shelter rate has dropped below 3%. One of the Free Goods Program's core beliefs is that having your own furnishings allows you to truly feel at home and helps one put down roots that aren't at risk of getting taken away.
The success of the Free Goods Program is an integral part of our housing-focused mission.
"There is a difference between housing-first and housing-only, and the DI strives to provide the necessary wraparound supports for those housed. CHF has also demonstrated their commitment to finding innovative solutions to homelessness in our city, and we are grateful to have their support"
– Sandra Clarkson, Executive Director, the DI

"Calgary Homeless Foundation is pleased to support the successful efforts of the Free Goods Program led by the DI. This initiative has far exceeded our expectations, and these donations are providing low and no- income Calgarians with essential items and home furnishings that will make their house a home. It is through these types of collective efforts that we will be able to continue to guide the fight to end homelessness and ensure appropriate resources are available for Calgarians in need, when and where they need them the most."
– Patricia Jones, President and CEO, Calgary Homeless Foundation
The Free Goods Program also transitioned online during COVID-19, offering a new electronic booking system which makes it easy for agencies to utilize their services. They've also mobilized internal and local movers to make transporting furniture and other items easier, which removes another common barrier to housing. Making sure to utilize all community donations, any surplus from the program was donated to local outreach groups such as the DOAP Team, BeTheChangeYYC, and others.
"No matter what's thrown our way, we are committed to end homelessness in our community," says Clarkson. "We don't do this great work alone, and it's because of support from CHF and other agencies, donors, and businesses that we've been able to help furnish so many new households this past year."
With spring upon us, many Calgarians are cleaning out their homes. If you're in the same boat and have goods to donate, please consider giving to the Free Goods Program. Learn more here.
---
Free Goods Program | Donation Centre
Phone: 403-264-0856
Address: 3640 11a Street NE (map)
Hours (excludes statutory holidays):
Monday to Friday: 8:00 a.m. – 6:00 p.m.
Saturday and Sunday: 9:00 a.m. – 6:00 p.m.