< BACK TO NEWS AND STORIES
Calgary Drop-In Centre's Free Goods Program welcomes all people in need, including those new to Canada
September 25, 2022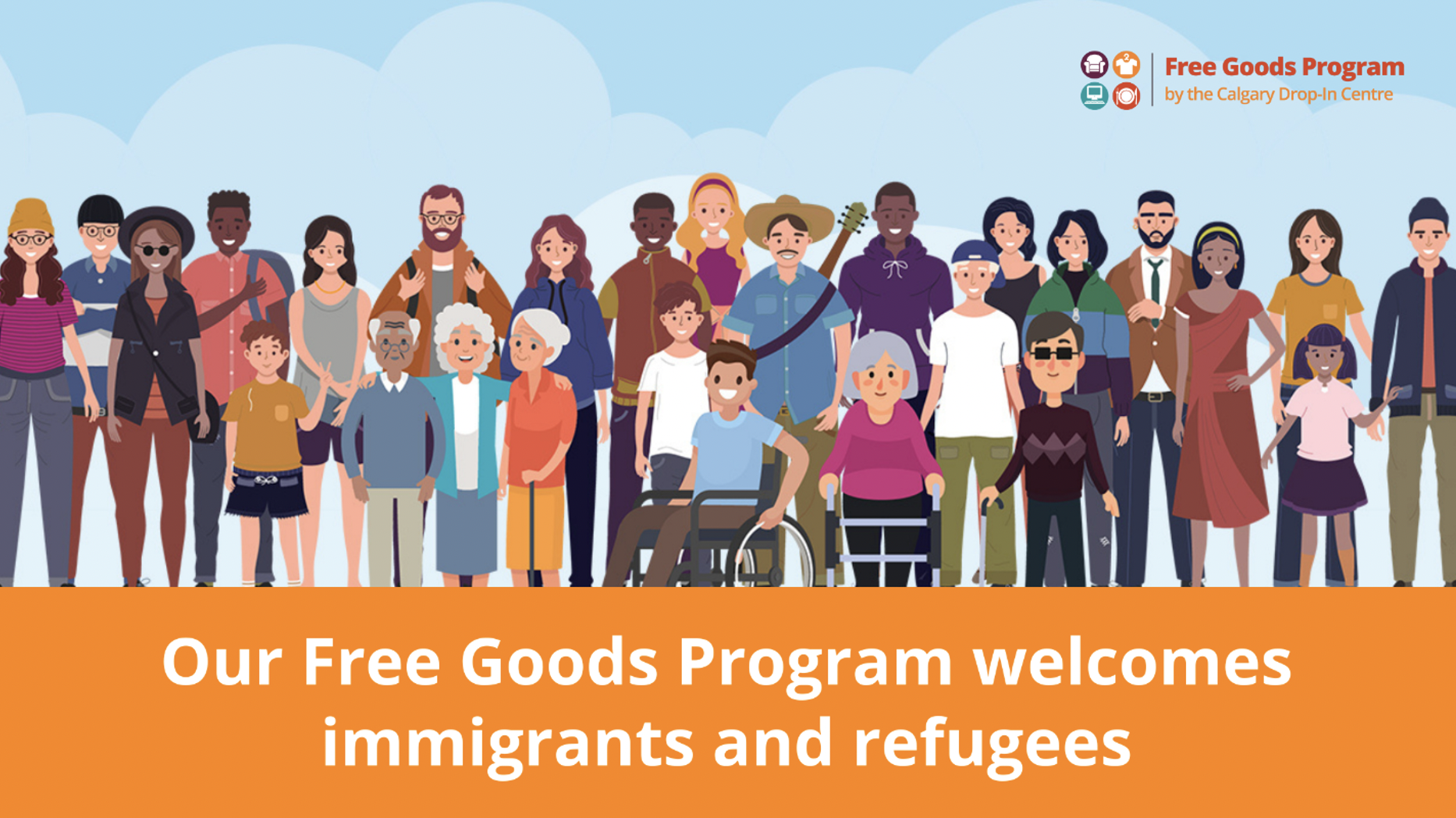 Estimated read time: 4-5 minutes
The Calgary Drop-In Centre (the DI) is happy to play a part in welcoming newcomers to Canada settle into communities in Calgary. Moving to a new city can be difficult, let alone moving to an entirely new country. Many families and individuals arrive here from around the world with next to nothing, lacking social connections to help facilitate a fresh start.
We proudly work with organizations such as Calgary Catholic Immigration Services, Immigration Services, Centre for Newcomers and the Calgary Immigrant Women's Association who help connect those newly arrived in Canada with resources – often referring them to our Free Goods Program for essential items to help them get settled into their new homes.
What is the Free Goods Program?
For more than 60 years, the Calgary Drop-In Centre (the DI) has supported Calgary's most vulnerable, and has evolved to become a housing-focused emergency shelter. The Free Goods Program is an extension of the DI, primarily focused on helping people access the essential items and comforts that will enrich their quality of life since not everyone can afford to furnish their home or buy clothes.
The Free Goods Program collects new and used donations (such as furniture, household items, technology, clothing, hygiene items, and more) from community donors and then distributes them to low- and no-income Calgarians who need them – at no cost. We've evolved our three programs (Clothing Room, Move Out Program, CLIC) to remove as many barriers as we can. We work with people one-on-one and liaise with more than 120 local agencies and over 20 outreach teams. Directly or indirectly, we work with any low- or no-income Calgarian  who needs help, and we offer support wherever we can. We believe that everyone deserves a home of their own and we are honoured to help people in achieving this.
We extend a warm welcome to all our neighbours – both new and established – from around the world, and invite those in need to apply and take advantage of the many services we provide. (Click here to apply.)
How does the FGP help immigrants and refugees*?
Immigrants and refugees, collectively newcomers to Canada, represent a group of people hoping to make a house a home. The DI is happy to play a part in welcoming newcomers to Canada and Calgary.
The DI embraces diversity, supporting over a dozen different languages through the Free Goods Program, helping us better serve clients by lowering communication barriers and making access to our services more comfortable for non- and limited-English speaking people.
Last year¹, we provided 1,235 items to over 80 households—serving 311 individuals new to Canada.
To highlight the impact of this program, below is a story from one of our staff members: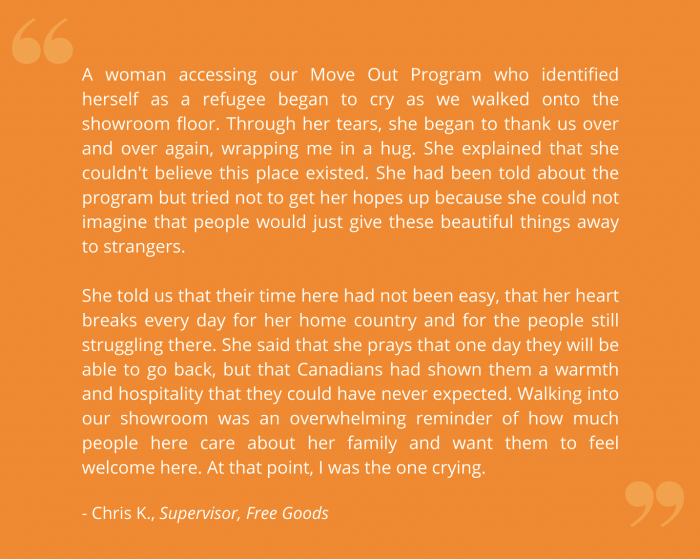 This story is one of many from vulnerable individuals we helped through generous donations from the community. We are proud of the part we play in stories like these, especially as needs from the immigrant and refugee population in Calgary continue to grow.
In fact, the Move Out Program at the Donation Centre has seen a tremendous increase in needs from this population recently, with an observed growth of 126% more households served, constituting a 130% increase in individuals served. We delivered 157% more large furniture items and 143% more small furniture items and appliances to families in need in just the last 14 months. We anticipate needs to increase even more in the next year.
How does the FGP plan to support newcomers to Canada as needs are projected to continue increasing in the next year?
In the next year, we anticipate massive growth, with projections anticipating serving 529% more householdsand 492% more individuals. This creates a projected need for 543% more large items and 606% more small items.
This anticipated growth for migrants and refugees is much larger than the growth for the general population, which is 46% more households, 64% more individuals, and 73% more items overall. The Free Goods Program is fueled by donations from the community. Due to the high volume of people served, we are always in need of more items.
We currently do not have the resources to meet these service needs. We need donations to meet the demands that come with the rapid growth of and need for this program.
How can you help make an impact?
When we say it takes a community, we mean it! Our programs rely on everyone to run smoothly and ensure each person can turn their house into a home.
We have a strong team comprised of staff, volunteers, and practicum students who help us sort donations, refurbish computers, put together Kindness Kits, help folks pick out their new items with dignity, and so much more. As we like to say at the DI, it takes a community to build community.
Here are some ways you can help:
Donate: Providing more donations will help everyone who needs these services, low- to no-income Calgarians, both those new and established. Drop off your lightly used furniture, kitchenware and appliances, houseware, décor, computers and hardware, televisions, beds, mattresses, books, and more at our Donation Centre located at 3640 11A Street NE.
Our programs are efficient and cost-effective, and we don't let any resource go to waste. If we can't use a donated item, we'll recycle or sell it to help fund our programs, such as purchasing new essential items given the season (like sunscreen or winter boots) that are also available for the community to purchase via our Amazon Wishlist.
Volunteer: We are always in need of volunteers! Check out our volunteering opportunities here.

Spread the word:

Follow us on social media and share this blog with your connections!
Learn more by visiting Free Goods Program | Calgary Drop-In Centre (calgarydropin.ca)
Notes:
"Immigrant and refugee" use of the Free Goods Program is defined by data from the following referring agencies, which specifically and only deal with newcomers to Canada: Calgary Catholic Immigration Services, Immigration Services, Centre for Newcomers, Calgary Immigrant Women's Association.
This data does not account for self-referrals and only reflects successfully completed appointments
_________________________________________________________________________________________
¹ April 1, 2021 – March 31, 2022; the last fiscal year