< BACK TO NEWS AND STORIES
National Indigenous Peoples Day
June 21, 2021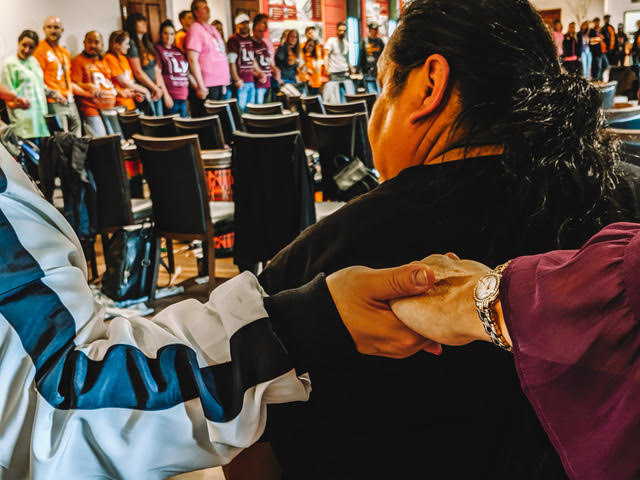 This June 21, 2021 marks the twenty-fifth anniversary of National Indigenous Peoples Day, a day for all Canadians to celebrate and learn about the heritage and culture of First Nations, Inuit, and Métis peoples. Below is a sample of Canadian events that will help to deepen your appreciation and understanding of Indigenous cultures.
Outdoor Activities
The Walk for Reconciliation is an opportunity for us to reflect on the difficult history and atrocities of residential schools in Canada, the legacies of survivors, and how we can all move forward together to overcome adversity.
Walk in your neighbourhood to show your support on June 21, and post a photo or video of your walk to Facebook or Instagram with #WFR2021. Check out videos on this page for more ways you can join the journey to reconciliation.
Old Sun: Listening to Survivor's Testimony from Old Sun Residential School 
On June 21st, 2021 at 7pm we will be looking at the history of Old Sun and listening to recorded testimony from survivors, recorded by the Truth and Reconciliation Commission. For all those joining this event we ask that a $5 or more donation is made to The Indian Residential School Survivors Society: https://www.irsss.ca
Digital Events
This year's production of APTN Indigenous Day Live (IDL) has been adapted to feature many of Turtle Island's established and emerging Indigenous artists in a new and creative way. In celebration of the 25th National Indigenous Peoples Day, APTN invites you to tune in to the IDL festivities on June 20, 2021, with a rebroadcast on June 21st.
Join hosts Earl Wood and Janelle Wookey for the 2021 edition of IDL, featuring performances from Snotty Nose Rez Kids, Tom Wilson, iskwē, Neon Dreams, Julian Taylor and Charlotte Cardin.
Indigenous People's Day Showcase
The Indigenous People's Day showcase will feature a circle discussion led by Elder Blu Waters with 2S & Indigiqueer leaders from 2-Spirited People of the 1st Nations Leadership Building Initiative – Kiley May, and Shane Lyon. As well as traditional Anishinaabe singing from Kiyana Johnston and Anishinaabe dancing from Nenookaasi. The showcase begins at 4pm and will run for an hour.
Indigenous Films and Filmmakers
Join us all month long for free, on‐demand screenings of much‐admired films by Indigenous artists from the National Film Board (NFB) collection.
Gain a new understanding of Indigenous identities and spirituality. Reflect on how you can take part in the Truth and Reconciliation Commission's calls to action. Use the guiding questions at the end of the film list to start a conversation with your friends and family.