< BACK TO NEWS AND STORIES
Free Goods Program: Warm Welcomes, New Chapters
October 24, 2023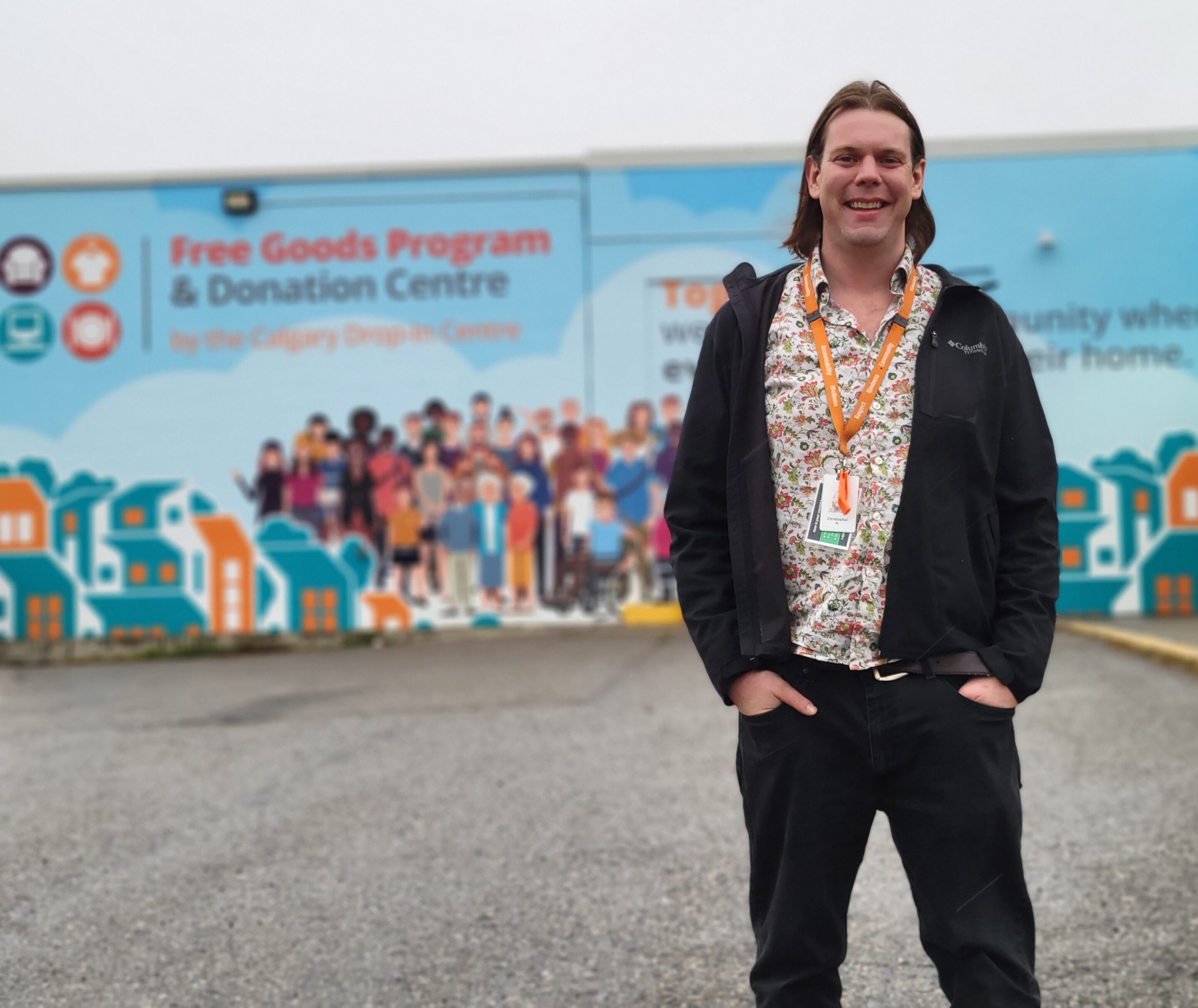 By Chris K., Supervisor, Free Goods | Calgary Drop-In Centre  
Colin's warm welcome to the Donation Centre made me certain I was in the right place. Myself, and many of my hospitality industry colleagues had been hard hit by the pandemic, and for the first time, I found myself lacking community and a sense of purpose. I knew I wanted to donate my time to an organization that made a tangible impact on the lives of those struggling, but I wasn't certain if or where my skills were really needed. My trepidation faded quickly as Colin showed me around the building, his enthusiasm visibly growing as it became clear to him that I was just as excited as he was by the scale and scope of the work happening around us. That warm welcome was the beginning of my new chapter.
Over a decade ago, a new initiative was created called the Move Out Program to meet the needs of our Drop-In Centre clients who were moving out of shelter and into long-term housing.  Moving into a place of their own and regaining independence can be a difficult journey for people, and moving into an unfurnished space and starting over from scratch was a daunting and disheartening experience for many. Upon identifying this roadblock and relying on the extraordinary generosity of the community around us, we introduced the Move Out Program, a program to accept donations of furniture and other essential home furnishings from those looking to help and provide them free of charge to those who need them most.
While the program started off small, helping only a few dozen people in its first year, word began to spread, and donations began to pour in. In a few short years, we reached the point where we could support not only just our shelter clients but also those moving out of any other shelter in our city. People sheltered at Alpha House, Mustard Seed, Inn From the Cold, Salvation Army, Fear is Not Love (Calgary Emergency Woman's Shelter), and YWCA Sheriff King Home are all welcome to make an appointment at our donation centre when transitioning into long term housing. As word of our program spread and donations continued to increase, we found ourselves in the position to invite many other agencies in our community to refer their clients to us if they needed home furnishings.
Today, the program takes referrals from over 130 different partner agencies who work in a broad range of sectors throughout Southern Alberta. We have also introduced the opportunity to self-refer; if your household falls under the Federal Low-Income Cut-Off and you need to furnish your home, you can make an appointment to visit our showroom and see what we have to offer. With the sudden spike in the cost of living and many in our community members forced to choose between furniture and food, the program has become a lifeline for many who may be just a single missed paycheck away from ending up at the doors of our shelter. We see it as one of our best tools at our disposal to counter the harmful effects of poverty and housing insecurity and to build community from the ground up.
Over the past couple of years, Calgary has been proud to welcome a record number of refugees, asylum seekers and newcomers to our community. We are proud to partner with several agencies who provide support and resources to those who may need help to access programs and services intended to ease their transition. We regularly hear stories of folks living out of garbage bags for lack of a dresser or sleeping on piles of clothing because a mattress seems hopelessly out of reach. Getting to deliver the news that everything surrounding them is available for free if needed, and graciously donated by kind Calgarians is a feeling like no other. For those new community members who may be struggling with the rapidly increasing cost of housing, food or education, the Move Out Program allows for a dignified and warm welcome to their new chapter.
Volunteers play a critical role in nearly every aspect of our day-to-day operations and allow us to stretch our resources as far as possible. We have as many as fifty volunteers each day spread throughout the building, some dropping in for a few hours with a community group or as a team building event, others dedicating dozens of hours a week to support our mission.
We also engage an ever-rotating team of Practicum Students from a wide range of schools and education programs focused on Social, Community and Family Support Work who perform a majority of the client-facing work of the program. In the past year, 41 skilled and compassionate students dedicated over 8,000 hours of their time towards supporting the needs of our clients, and in return, received the opportunity to develop and hone the skills they learned in the classroom setting. One of the most rewarding parts of my position is providing these future professionals with a warm welcome to the field and acting as a leader and mentor as they work through the final steps toward their new chapter.
I will never forget the warm welcome I received and the strong sense of community I experienced when first stepping into the Donation Centre. Now I feel a great sense of pride in extending that warm welcome to the volunteers, students and community members crossing through our doors and having the chance to be a small part of so many new chapters.
Author's Bio 
Chris was raised in Calgary and his enthusiasm for building community and social justice advocacy have been described as infectious. He started at the DI as a volunteer, then found his purpose and built a career around an agency he loves. A passionate advocate for affordable housing, food security, and accessible education for all; Chris takes pride in working towards building a more equitable city for our most vulnerable. 
Learn more about the Free Goods Program by clicking here. 
Interested in making an impact in your community? Join us as we work together to build a community where everyone can their way home.
Explore how you can help by clicking the button below.