< BACK TO NEWS AND STORIES
Celebrating World Kindness Day 2022
November 13, 2022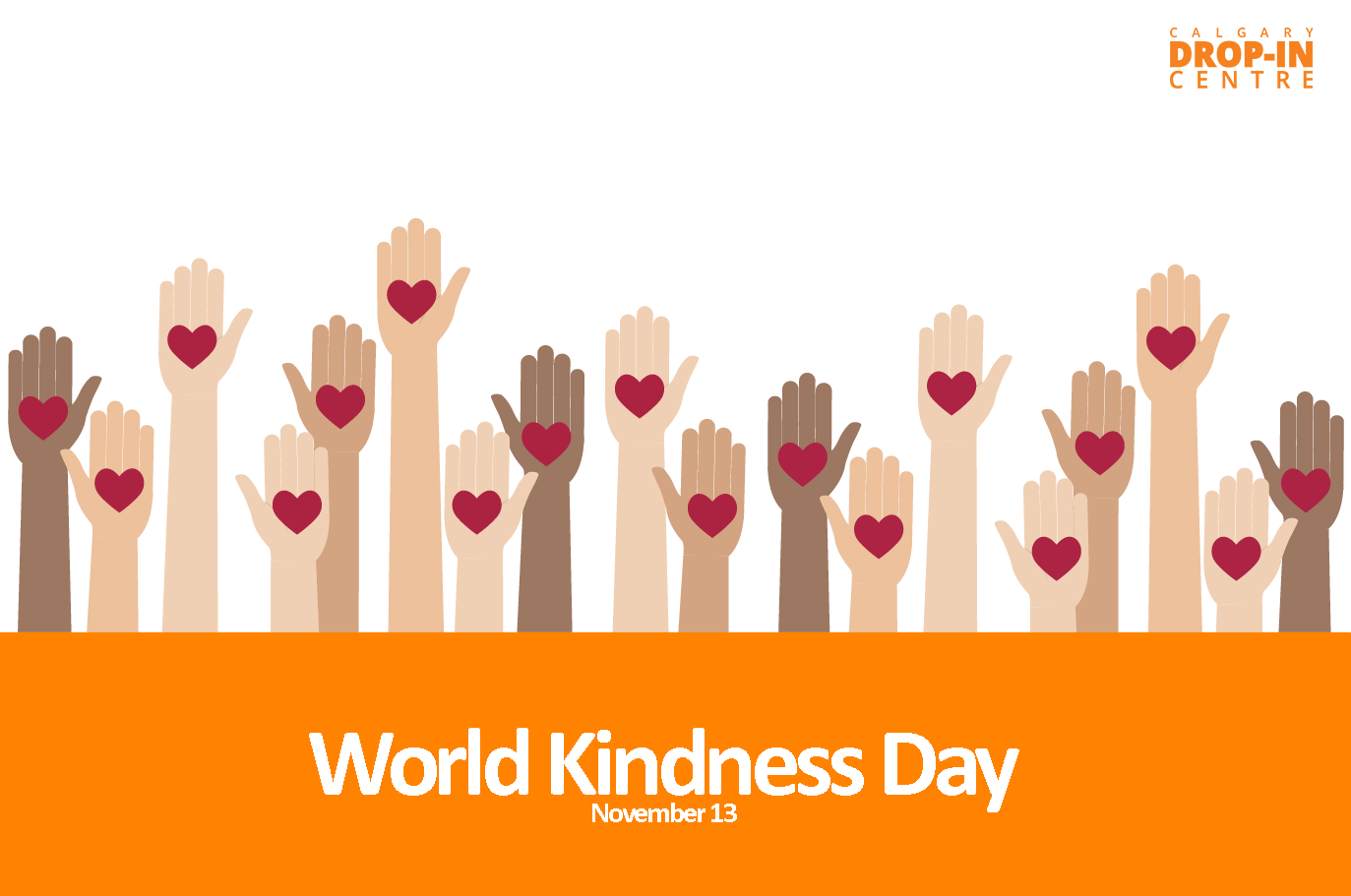 "Fueled By Kindness."
It's no secret that here at the Calgary Drop-In Centre, we try and infuse every act we do with an abundance of kindness because it is one of the core values our agency lives by. From providing essential services to Calgary's most vulnerable to trying to help anyone in need find their way home again, we have made sure to put kindness at the forefront of our actions.
This year for World Kindness Day though, we wanted to feature your kindness. Yes, you! Reading this right now!
Our housing-first transformation began in 2017, and now roughly five years later we are closing in our helping 2000 individuals secure their own housing. This work has consistently been able to happen thanks to the kindness and generosity of our community members, from our funders to our donors to our volunteers, who have helped make this work possible. We here at the DI see it throughout the year, from when we need your support with gathering hats and sunscreen in the summer to just recently when our Free Goods Program was critically low on furniture and the city came together to help replenish our stock.
That kindness has a ripple effect. Take the furniture with the Free Goods Program. With our furniture stock now at a functioning level, we have been able to resume all regularly-scheduled appointments, which amounts to a staggering 105 appointments per week. With over 120 partner agencies using that service – not to mention all the newcomers to Canada who receive the warmest possible welcome – it's hard not to feel inspired by what we can accomplish together.
As we move into the holiday season, we know that we are once again going to rely on the kindness of Calgarians (and beyond!) to ensure that Calgarians in need receive shelter, a warm meal, and the health and housing services they need. It is often thankless work, but today offers a great chance to shine a spotlight on the joy and compassion that is at the heart of our city.
It's a testament to the sense of community that exists here, a spirit that is quick to flash a smile or offer a helping hand. So thank you, Calgary, for the kindness that you show year in and year out. We couldn't be more appreciative. Like everything we have discovered these past few years, it's better together. We are continually grateful to be the recipients of your goodwill and the stewards of your charity. We promise to continue making good use of it, and when the day soon comes when we hit our 2000th housing story, that is a success that all of us will be responsible for.
Thank you for making that dream a reality. And if by chance you feel inspired to pay it forward today, we know of a pretty good suggestion that you can find at www.calgarydropin.ca/donate