< BACK TO NEWS AND STORIES
Transitional Housing Program Housed 126 Community Members During the COVID-19 Pandemic
December 19, 2020
From June 1, 2020, to November 30, 2020, the Calgary Drop-In Centre (the DI) partnered with the Calgary Homeless Foundation (CHF) on an innovative 6-month Transitional Housing Program.
While most transitional housing programs are set within a 2-year window, having a goal of individuals obtaining housing and are usually focused on self-contained suites (with their own kitchen and bathroom), our program was a bit different.
As this program was created in response to the COVID-19 pandemic, we prioritized individuals who were more at risk of contracting COVID-19 due to their living environment. Therefore, we ensured that our program was both efficient and effective.
We set our program time window to 6-months, with a target of housing each participant within 30 days. What's more, is that we focused on starting with hotel accommodations – where all individuals were given a room and meals were delivered to their rooms.
We not only offered this program to the DI's clients, but we also reached out to system partners, like the YWCA, to see if they had any individuals who would fit the criteria of this program. Our program prioritized individuals over the age of 55 who were experiencing medical issues. Next, we focused on individuals of any age with medical issues and Low to Mid complexities. If you aren't familiar with this term – complexity indicates the level of need for services. Our program determined complexity based on our internal data and CHF's Needs and Services Questionnaire. Low to Mid complexity was defined as individuals who have had:
No restricted services to our emergency shelter, due to physical violence, in the last year
Nor, or a low, history of overdose in our emergency shelter for the last year
Additionally, as agencies that know the importance of health and housing, our program staffed Housing Case Managers and Health Care Specialists. All program participants were assigned a Case Manager and had access to health services.
Outcomes
In those 6 months, the transitional housing program had an 83.4% success rate in helping participants find housing. We reached such amazing milestones that we're happy to report on.
Of the 151 individuals who entered the program, 126 of them were able to obtain housing:
90% of the participants were housed in independent housing (including low-income housing providers):

Out of the 126 housed participants, only 6 individuals returned to shelter at the end of the program – each of these six individuals have case managers at the DI.
Another program participant was successful in obtaining AISH income assistance after our team supported in completing their application.
While our target was to have participants housed within 30 days, the transitional housing program participants found their own home within 63 days – on average. This was more than double our initial target, but still a very impressive outcome!
Additionally, the Health Services department completed 2,053 health care appointments with participants. The Health Services team connected participants with community-based supports for any medical needs identified; several participants were able to identify underlying health concerns once they moved into non-congregate living environments and received the appropriate treatments they required.
Survey Responses
We didn't stop at housing, though. An important part of the transitional housing program was to conduct Quality of Life surveys with participants 3 months post housing. One of the major questions we sought to answer was 'did the participant's quality of life increase due to housing?' These surveys help us further enhance future programs to make sure they are making the right kinds of impact. Thus far, we have received 23 survey responses, and it is evident that quality of life was increased due to housing – participants' outlook on life also improved.
One of the program participants reached out after being housed, saying, "life is already getting better, and I'm feeling much better about myself and my future. But I won't say any more, so I don't jinx it. Thanks again for all you do and have done for me."
Below are some of the survey highlights showing how the transitional housing program has impacted participants' lives and behaviours being housed.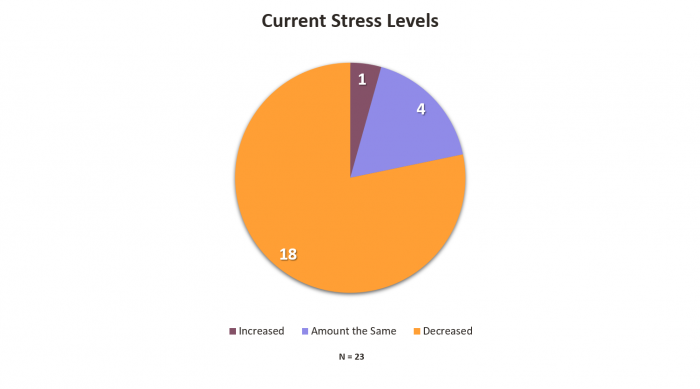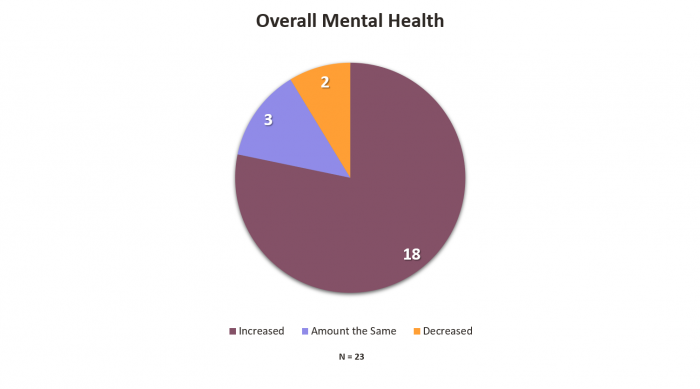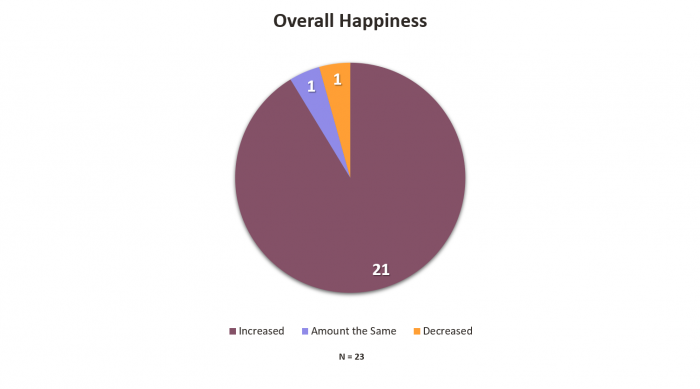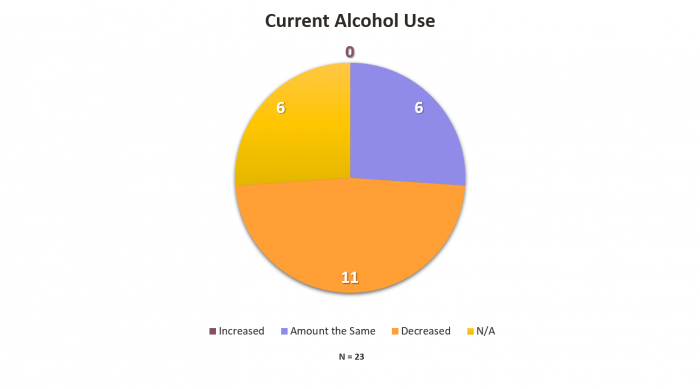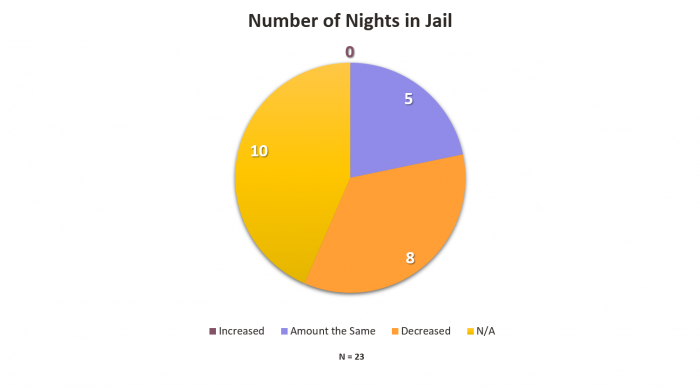 We are very proud to have positively impacted Calgarian's lives like this, though we did not do it alone. The overall success of this program was a direct result of the participant's desire for housing, the Calgary System of Care coming together and supporting an innovative idea, and the dedication of all the staff at the Calgary Drop-In Centre, as well as the generous funding from the Calgary Homeless Foundation. Together, we delivered.
Patricia Jones, President and CEO, of the Calgary Homeless Foundation says, "the COVID-19 pandemic continues to highlight the importance of housing for the health and well-being of our community. Moving Calgarians who are experiencing homelessness into appropriate housing with customized supports continues to be a top priority for Calgary Homeless Foundation, the Calgary Drop-In Centre, all orders of government, and Calgary's Homeless-Serving System of Care. Calgary Homeless Foundation is proud to have partnered with the Calgary Drop-In Centre to support the success of this Transitional Housing Program, a necessary emergency response that has allowed 126 Calgarians in need to move quickly into a safe space while they awaited keys to their own home—the foundation upon which all other healing can happen."
To get a better sense of who some of the participants are, watch the below. Told by the DI staff, "Chuck's" story is a collection of stories and experiences lived by the several "Chucks" we've met over the years in our mission to create a community where everyone can find their home.
If you're looking for a way to support us in our mission of creating a community where everyone can find their home, consider donating to the DI.