< BACK TO NEWS AND STORIES
National Day for Truth and Reconciliation to be Observed at the DI
September 29, 2021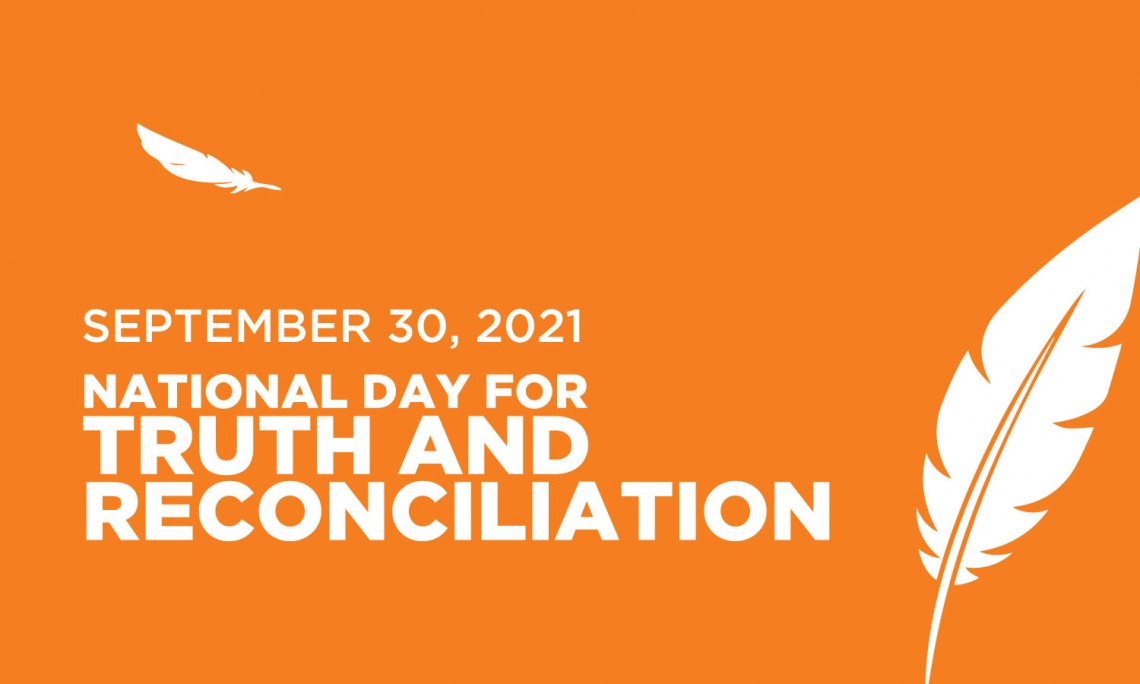 On September 30, Canada will be recognizing the first-ever National Day for Truth and Reconciliation, which the Calgary Drop-In Centre will also be observing. However, as we are a 24-7 emergency shelter, we will still be offering emergency services to those who need them.
The National Day for Truth and Reconciliation evolved from Orange Shirt Day, which began in 2013. Also taking place on September 30th, it began as a day to wear orange shirts to honour Indigenous children who were forced to attend residential schools, a practice that went on until the last residential school closed in 1996, only 25 years ago.
The holiday was established as outlined as action item 80 in the 94 Calls to Action from the Truth and Reconciliation Report. "We call upon the federal government, in collaboration with Aboriginal peoples, to establish, as a statutory holiday, a National Day for Truth and Reconciliation to honour Survivors, their families, and communities, and ensure that public commemoration of the history and legacy of residential schools remains a vital component of the reconciliation process." For further education on the 94 Calls to Action and how far along the progress of each call is in Canada, we recommend reading the CBC interactive piece Beyond 94.
This holiday also provides an opportunity for settlers on Treaty and unceded land to reflect and educate themselves on the history of Indigenous peoples in Canada, especially in light of the estimated 3,200 Indigenous children (per the Truth and Reconciliation Commission) both found in unmarked graves at former residential schools since May of this year and still yet to be found. While this is an ugly part of our history, it does not do any justice to ignore it and must be understood and acknowledged in order to move forward. Reconciliation will take more than a national holiday, but this provides an excellent opportunity to either start or continue our efforts towards it.
Further education pieces on Truth and Reconciliation follow, these are just a few resources to get started, but by no means a comprehensive list.
As well, the Centre for Newcomers in Calgary has compiled an excellent list of online and in-person events and resources, including Indigenous businesses you can support. You can find their list here.
The legacy of residential schools and colonialism continue to affect Indigenous communities today. This is true in our sector, where the intergenerational trauma has a correlation with the overrepresentation of Indigenous peoples in those who are experiencing homelessness.
In addition, this year in shelter there will be programming led by our newly-established Diversity, Equity, and Inclusion committee, including on-site support for our Indigenous shelter guests and staff. We would like to leave you with the words from one of the organizers and a member of the Mi'kmaq people, Mizze W.
"Since the original stories heard from the residential school survivors from 2008 to 2014 during the construction of the Truth and Reconciliation Commission (TRC), we have seen Indigenous peoples speak up and seek the truth of what happened to their loved ones and find answers to why the Indigenous culture was stripped from us. Through this work Indigenous people have overcome many obstacles and barriers. Through the Indigenous way of life and the Medicine wheel we have begun the stages of healing. But with healing must come reconciliation and to achieve reconciliation we must come together as a community, as a country, and as people. So please on this first annual National Day of Reconciliation join me in holding space, heart, and memory for our ancestors who are not here to see this day in person, through our hearts they will be here in spirit."