The Free Goods Program is partnering with Community Cleanup around the city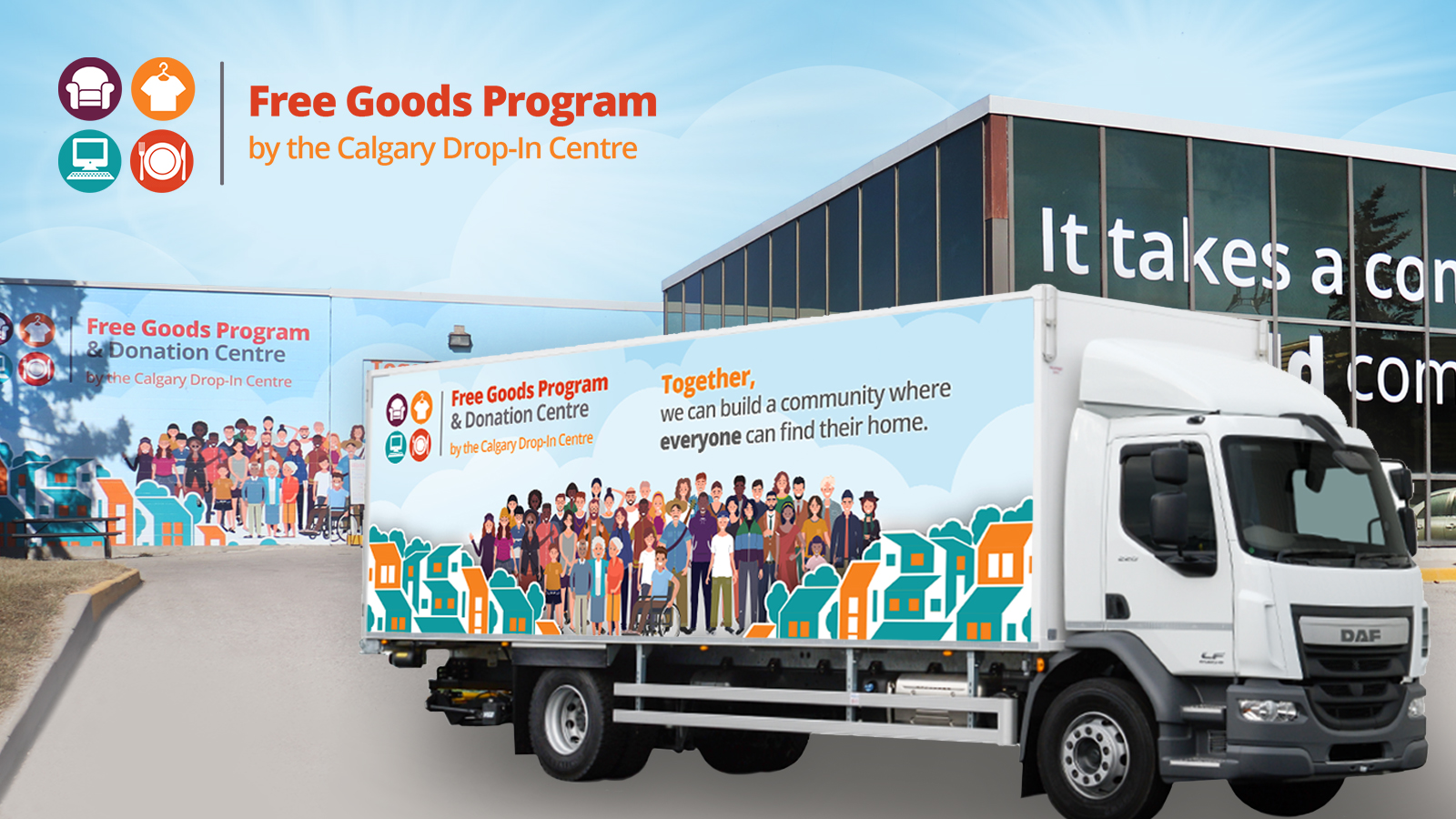 Spring is just around the corner, and many fortunate Calgarians who have a home to call their own are housekeeping and letting go of old items. If you are in the same boat and have items (like furniture, kitchenware, clothing, computers, mobile phones, small appliances, books, and more) to donate, please consider giving to the Free Goods Program. Everyone deserves a home of their own, and this DI program supports people in achieving this.
To help in this endeavour, the DI's Free Goods Program will be at select City of Calgary Community Cleanups!
Calgary Community Cleanup Details
Please note that this schedule is subject to change due to the availability of volunteers, COVID-19, and inclement weather. Please check the below schedule to confirm details before attending a Cleanup. We will update this page regularly. All community cleanups take place between 9 a.m. and 2 p.m.
University Heights – April 23, 2022 (2215 Uxbridge Dr NW)
Glendale – April 24, 2022 (2415 Kelwood Dr SW)
Huntington Hills – April 24, 2022 (520 78 Ave NW)
Bridgeland Riverside – April 30, 2022 (917 Centre Ave NE)
Mount Pleasant – May 1, 2022 (602 22nd Avenue NW)
Varsity – May 8, 2022 (4303 Varsity Drive NW)
Tuscany – May 15, 2022 (212 Tuscany Way NW)
Hawkwood – May 21, 2022 (650 Hawkwood Blvd NW)
Thorncliffe-Greenview – May 28, 2022 (5600 Centre Street NE)
Lake Bonavista – May 29, 2022 (1401 Acadia Drive SE)
Rutland Park – June 4, 2022 (3130 40 Avenue SW)
Ranchlands – June 11, 2022 (7713 Ranchview Dr NW)
Elboya Heights – June 19, 2022 (416 Park Avenue SW)
Scenic Acres – June 25, 2022 (8825 Scurfield Drive NW)
Willow Ridge – June 26, 2022 (680 Acadia Dr SE)
McKenzie Towne – August 20, 2022 (40 McKenzie Towne Blvd SE)
Southwood – September 3, 2022 (10690 Elbow Drive SW)
Deer Run – September 17, 2022 (2223 146 Avenue SE)
Erin Woods – September 24, 2022 (83 Erin Park Drive SE)
Is your community having a cleanup this spring? Talk to your Community Association and have them contact Community@thedi.ca if you'd like us to partner with your neighbourhood as well.
Your donated items help to provide low- and no-income Calgarians with the essentials they need to make a house a home – at zero cost. Help make Calgary a place that is home for everyone. We look forward to seeing you at one of these community cleanups!