< BACK TO NEWS AND STORIES
Calgary shelters have space available for those seeking shelter, meals, and access to resources
December 5, 2020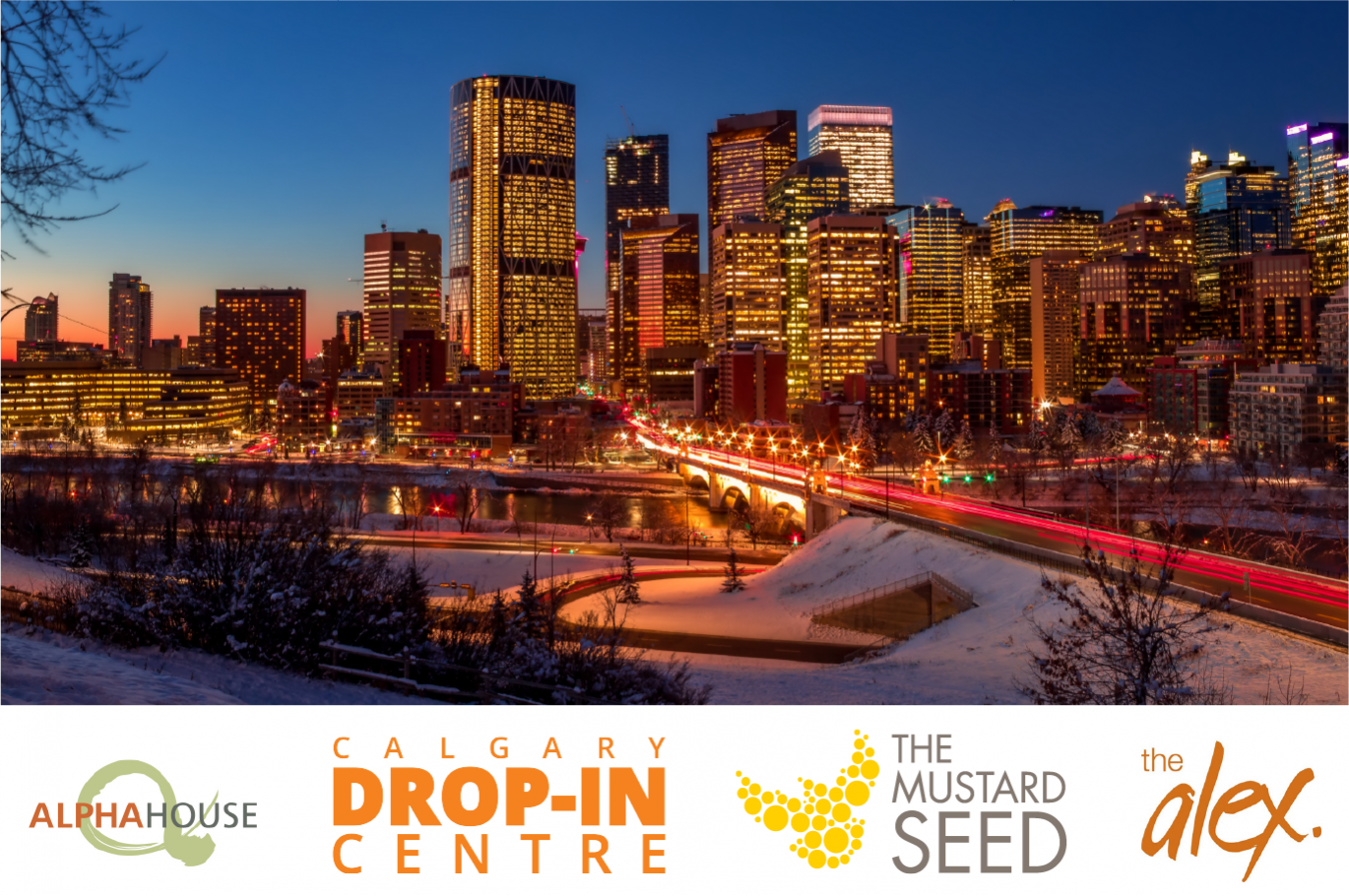 Edited: December 10, 2020
As COVID-19 cases continue to rise in Calgary and the rest of the province, local homeless-serving agencies are doing everything they can to provide safe beds, meals, housing support, and social isolation space for Calgarians who have no fixed address.
"More than I've ever seen, Calgary's homeless-serving agencies have been deeply collaborative to ensure those who are experiencing homelessness are being looked out for," says Joy Bowen-Eyre, CEO of The Alex.
Currently, Alpha House has 44 beds available each day/night in their main shelter, as well as 44 overnight spaces at a satellite shelter. The Mustard Seed's emergency shelters have space for 225 people per night. The Calgary Drop-In Centre (the DI) can accommodate up to 380 people in their main shelter, and based on recent occupancy rates of about 250 per night, there is still space for additional people with appropriate physical distancing measures in place.
All shelters are following Alberta Public Health safety protocols and are providing 24/7 care to ensure that anyone seeking help has a safe place to stay, as well as providing meals, clothing, and essential services.
"We are balancing our response to COVID-19 and the need for access to shelter and services," says Sandra Clarkson, executive director of the DI. "We have installed plexiglass barriers in select sleeping quarters, are providing free face masks, and have arranged the shelter to promote physical distancing."
As per Alberta Public Health, Alpha House, the DI, and the Mustard Seed are among the many outbreak sites in Calgary. In response, all COVID positive clients are promptly referred to The Alex's Assisted Self-Isolation Site (ASIS), which provides care to the individual and helps reduce the spread to other clients and staff. The ASIS program operated by The Alex is for people experiencing homelessness who test positive for COVID-19, are experiencing symptoms of COVID-19, or have been in close contact with someone with COVID-19. The program has capacity to expand to accommodate up to 100 people and is currently supporting approximately 60 individuals. The number of people supported by ASIS fluctuates daily based on continual intakes and discharges as people complete their self-isolation period.
In compliance with Alberta Health Services guidelines, all shelters continue to operate as safely as possible and none of the shelters are at a point where they have to turn anyone away from their doors.
"We're working to the best of our ability to ensure every precaution and measure is taken to protect each individual coming through our doors," says Bill Nixon, Managing Director Calgary of The Mustard Seed. "We recently increased the capacity of our own Isolation Centre to 24 people. This allows us to continue helping those who need our services while also keeping symptomatic people away from the general shelter population."
Additional shelter space also continues to be sought out in partnership with the Calgary Drop-In Centre, City of Calgary, and Government of Alberta.
"As a community, it is our responsibility to ensure everyone who needs it has a safe place to stay," said Kathy Christiansen, executive director of Alpha House. "We will continue to collaborate across the sector to respond to the needs of those experiencing homelessness and to provide services as safely as possible."
If you see someone who looks to be in danger due to intoxication or being out in the cold, you are asked to please call Alpha House's DOAP (Downtown Outreach Addictions Partnership) Team at 403-998-7388. The DOAP Team are available 24/7 to help vulnerable Calgarians access shelter and other resources.
– 30 –
For media inquiries or more information, please contact:
Alpha House
403.478.0387
info@alphahousecalgary.com
Calgary Drop-In & Rehab Centre
403.852.0470
communications@thedi.ca
Mustard Seed
587.832.2372
feliciakocsis@theseed.ca
The Alex Community Health Centre
communications@thealex.ca
About Alpha House:
Alpha House Society provides shelter, detox, housing, and street outreach services to men and women whose lives have been impacted by alcohol or other drug dependencies. We work across a continuum of services to support client's individual needs and help them improve their circumstances.
About Calgary Drop-In Centre:
The Calgary Drop-In Centre (the DI) is more than an emergency shelter. We provide essential care as well as health services, employment training, and housing supports to people who need help. Our programs and services connect people to permanent housing that meets their individual needs.
Rooted in community and fueled by kindness, the DI proudly serves as part of the Homeless-Serving System of Care. For more information on how to volunteer, donate or otherwise make an impact, visit www.calgarydropin.ca.
About The Mustard Seed:
The Mustard Seed is a Christian non-profit organization that has been caring for men, women, and children experiencing poverty and homelessness since 1984. The Mustard Seed provides a supportive haven where we help the whole person through delivering basic services, housing, health and wellness services, employment programs, and partner with the community to address the root causes of poverty. TheSeed.ca
About The Alex Community Health Centre:
The Alex provides thoughtful, comprehensive health and social care to Calgarians facing poverty, trauma, food insecurity, housing instability and addiction, and helps them on their journey from crisis to wellness and from challenge to change.