< BACK TO NEWS AND STORIES
Calgary is in a Housing Crisis. Affordable, non-market housing is part of the solution.
November 7, 2023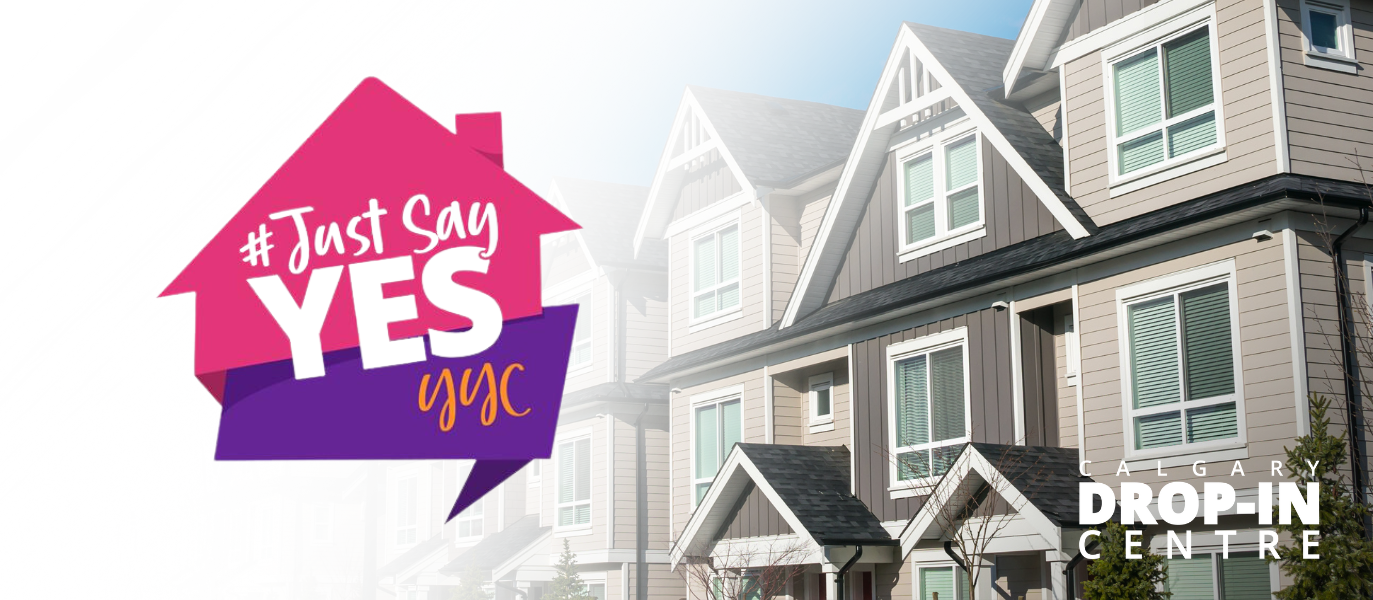 By Inam T., Policy & Advocacy Specialist Calgary Drop-In Centre  
At the Calgary Drop-In Centre (DI) we see the impact of the housing crisis every day. We provide emergency shelter and support services to people experiencing homelessness in Calgary and believe that everyone deserves a safe and dignified place to call home. Shelter is not housing.
But the reality is that many people in our city are struggling to find and maintain housing they can afford. In September, we saw a 26% increase in people accessing emergency shelter, compared to the same time last year. This is a worrying trend that our Executive Director, Sandra Clarkson, believes will continue through this winter. "With nowhere for people to go, our numbers just keep increasing. We're anticipating more demand on shelter this winter than we've seen since 2019."
What we're experiencing at the DI is the consequence of a city-wide housing crisis. The City of Calgary's Housing Needs Assessment indicates that the average rent between 2020 and 2023 increased by around 40% and the average price of a single detached home in 2020 increased by 37% in 2023. These numbers show that housing affordability is a serious challenge for many Calgarians, especially those with low or fixed incomes.
According to a study published this month from the University of Calgary's School of Public Policy, approximately 115,000 people living in 40,000 households were at high risk of homelessness in Calgary in 2016. Considering inflation and cost of living increases, the authors suggest that the at-risk population has grown in numbers since 2016.
Our municipal government has started to take notice of this problem. The City of Calgary's Housing Strategy hearings that were held in September heard gut-wrenching stories of the struggles from various different perspectives, and overwhelming support for investing in affordable housing. We are grateful for the voices of our community members who shared their experiences and advocated for change, which resulted in a 12-3 vote in favour of the strategy. City Council still needs to vote on funding for this strategy, as well as more funding for affordable, non-market housing at the annual budget adjustment meetings later in November.
There are currently over 5,600 households on the Calgary Housing Company's Affordable housing waitlist, and a 43.3% increase in applications received year to date in 2023 over 2022.
"When there are no housing options, you are going to see the numbers go up, you are going to see an increase in visible homelessness, you are going to see an increase in encampments… so people just have to say yes to affordable housing," Clarkson said.
We need more affordable housing in Calgary. Affordable housing is not only a human right, but also a smart investment. It reduces the costs of homelessness on our health care, justice, and social service systems. It also improves the quality of life and well-being of our fellow citizens.
That's why we urge our municipal, provincial, and federal governments to work together and increase funding for affordable housing projects in Calgary. We also ask our neighbours, businesses, and community organizations to support and welcome affordable housing developments in their areas.
Together, we can make Calgary a home for everyone.
Thank you for reading our blog post. Please share it with your friends and family and join us in advocating for more affordable housing in our city. 
Author's Bio 
Inam (he/they) is a passionate Calgarian, armed with a master's in public policy from Oxford, tackling solutions to our city's biggest problems. Inam is keen to connect with bold changemakers in our community to work together on shaping the future of Calgary.