< BACK TO NEWS AND STORIES
Calgary Drop-In Centre open for all during cold snap with expanded clothing room hours
February 5, 2021

It's that time of year again – our rolling hills and city sidewalks are freezing over as the mercury drops well below zero.
During the winter, pandemic or not, the Calgary Drop-In Centre (the DI) always has an eye on the forecast and works creatively to ensure we have enough space for anyone who needs it. While COVID-19 presents an additional challenge because of our reduced capacity and extra safety measures, we have not reached our maximum capacity yet and we do not intend to turn anyone away during these exceptionally cold days and nights.
Shelter Capacity
Our main building has been arranged to provide meals and shelter to as many as 516 across all our shelter sites. Our capacity does tend to change daily because we work in such a complex environment, but we have yet to turn anyone away.
If you see someone in the cold, please encourage them to come to the DI or another shelter in the city. As a sector, we are working together and doing everything we can to find everyone a warm place to sleep. We do not want anyone to feel like their only option is sleeping outside in this deep freeze.
Clothing Room Hours Extended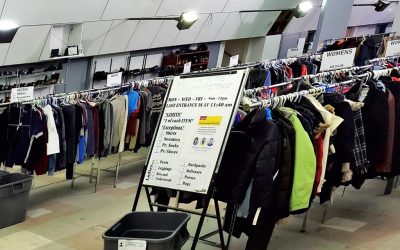 The DI will continue to provide clothing, jackets, boots, and other supplies to anyone in the community that needs them.
Typically, our Clothing Room is open from 9 am to 12 pm on Mondays, Wednesdays, and Fridays.
When the weather dips below -20, we open the Clothing Room to the public more frequently.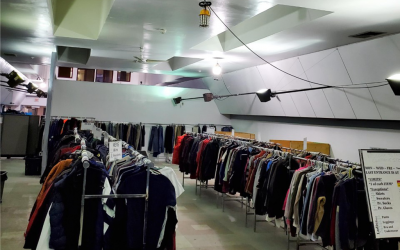 If you or someone you know needs warm clothing, our Clothing Room hours of operation for the next five days:
Feb 5, Friday: 9 am – 12 pm
Feb 6, Saturday: 9 am – 12 pm
Feb 7, Sunday: 9 am – 12 pm
Feb 8, Monday: 9 am – 12 pm
Feb 9, Tuesday: 9 am – 12 pm
Our clothing room is located at our Main Shelter, shown on the map below.
COVID-19 Outbreak Status
The DI is still in outbreak status; however, there is only one active case among those who have stayed with us and this individual has been referred to the Assisted Self Isolation Site (ASIS) and is not currently in our shelters. Since the pandemic began, 195 clients have been diagnosed with COVID-19, and 194 clients have recovered to go along with the one aforementioned active case.
We have regular screening and on-site testing for all clients, staff, and visitors who enter our building, as well as rapid testing for clients. We have increased cleaning throughout our buildings and PPE is required for all staff. Mask usage is also required in our buildings with provincially-approved exceptions for those who cannot reasonably wear a mask due to a mental or physical concern.
How to Support Us
There are many ways you can support folks with limited housing options.
1. If you see someone out in the cold or heavily intoxicated, please call the DOAP Team at 403-998-7388. They are an outreach team with Alpha House and they can assist this individual and offer transportation to one of our city's shelters.
2. Donate warm winter clothing such as boots, sweaters, socks, and new underwear as well as other items like blankets and tents. The DI currently accepts donations at our Donation Centre only, which is located at 3640 11 a St NE, shown on the map below. You can also provide those items by purchasing them off our Amazon wish list, which you can find at www.calgarydropin.ca/amazon.
3. Donate cash or sponsor a meal by visiting www.calgarydropin.ca/donate. Every dollar helps us ensure we can provide warm shelter, food, housing support, and more for those who need support.
Thank you in advance! It takes a community to build community, and we are filled with gratitude to be part of this one.